RIP Jimmy Buffett
💙
You gave us so much. We will be in your eternal debt. 
————————————————————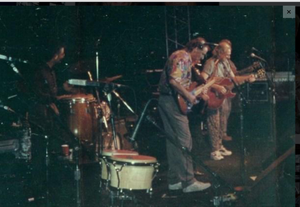 IT'S BEEN A LOVELY CRUISE 
OCT 9, 2023:
Due to a few chronic health struggles I have decided to retire. Though I've announced retiring a few times before each time I returned to the stage after surgeries and enough time had passed to heal up and give it another shot. This time there is no turning back. I had a wonderful career. Over 40 years of playing and singing. It's now time for my wife and I to start checking things off our bucket list. 
Thank you everyone who was part of this journey. You gave me the life I had dreamed about since I saw the Beatles on Ed Sullivan.
————————
I've been sailing on this dream for almost half a century. I've loved singing and entertaining. I believe it's where God wanted me. My struggles with severe hearing loss, a spinal cord injury and degenerative joint disease in both hands has made this decision easy for me to make. It's time to move on. 
It's all good though. Jimmy Buffett's passing has made me realize I've missed a lot of my life chasing the stage lights. It's been a great run since my first 2-shows, which incidentally was singing Margaritaville, Changes in Latitudes and Peaceful Easy Feeling at the closing down ceremonies at the ever popular Andy's Saloon in La Mesa, CA. I made $60 those two nights. That was in 1977. I was hooked from the first night. Thousands of shows done, many friends, and a multitude of great and fortunate years later I'm lucky enough to go out on my terms with an overwhelming sense of gratitude. I can't thank you all enough for the support. I'm truly grateful and blessed. I hope to see you all somewhere down the road. 
😊
Stay healthy and God bless us all. 
Strolling Down Memory Lane