Hello friends. It's been awhile. I've taken the last several months off for a couple of wrist surgeries. I'll be back on April 14th at Carlton Oaks. More shows to come. I can't wait. 
Stay well all. Hope to see you soon. God Bless
---
---
Gerry Dog put together this video. It was a blast being part of it: 
People Are Crazy: (that's a fact!)
---
Thanks Tim Flannery and Jimmy Buffett for making the photo (below) possible below. Tim, Sharron Schumaker and I started a band in 1992 and our fifth show was the opening act for Jimmy Buffett.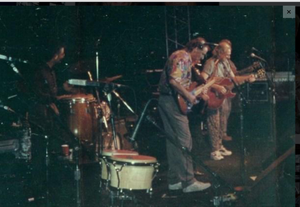 ---
Had a wonderful opportunity to play with Jackie Powers on steel drums and Gdog on bass. Here's a video of Kenny Chesney's: Keys in the Conch Shell recorded Wed Dec 1, 2021
---