Hello friends. It's been awhile. I had to take several months off for some healing, but now I'm getting back in the saddle. The down time was a Godsend. I feel charged up and ready to enjoy a return to the stage. I hope all is well with you and hope we see each other down the road. God Bless
———————————————————
Gerry Dog put together this video. It was a blast being part of it: 
People Are Crazy: (that's a fact!)
          ________________                ________________                ________________                ________________ 
Thanks Tim Flannery and Jimmy Buffett for making the photo (below) possible below. Tim, Sharron Schumaker and I started a band in 1992 and our fifth show was the opening act for Jimmy Buffett.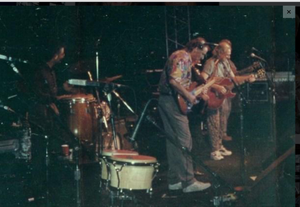 Had a wonderful opportunity to play with Jackie Powers on steel drums and Gdog on bass. Here's a video of Kenny Chesney's: Keys in the Conch Shell recorded Wed Dec 1, 2021
---
Twenty five years goes by quicker than you might think. Here are a few memories of my last 25. 

Nov 6, 1992 The Buffed Out Band Opening Act for Jimmy Buffett San Diego Convention Center. Jimmy joined my band and we all sang Havana Day Dreaming together. My folks, my son, and many good friends were there to support me. A wonderful night.
May 23, 1993 Opening Act for Willie Nelson in Rancho Cucamonga, CA. Willie was the kindest most sincere celebrity I have ever spoken with. Such a memorable event.
August 1994 opening act for the San Diego Padres post game beach party at Jack Murphy Stadium featuring Jan & Dean, the Surfaris, Dick Dale, the Chantey's, and the Buffed Out Band (Tim Flannery, Shaaron Hancock, Taylor Harvey, Tom Van Ourkirk and Gary Seiler)
Oct 13, 1995 played with Jimmy Buffett and the Corral Reefers at Irvine Meadows, CA. Jimmy gave me an autographed Gibson guitar and a video of the show. 
2000 Tahiti Shows on Cooks Bay on Moorea
2002 Gary Seiler "Living On Dreams" CD Release 
2004- 2011 Mulligan's Island Concerts on the Beach San Carlos Mexico
2005 Gary Seiler "He's Finally Living" CD Release
2005 The Pacific to Atlantic US Tour
2005 The Tahiti Tour Shows at Bloody Mary's, Bora Bora Yacht Club, Radio Bora Bora
2010 Gary Seiler "Toes in the Sand" CD Release recorded a Nashville, TN.
March 15, 2020 Gary Seiler "Turn It Up" CD Release
---
---