Once upon a time I was 12 years old listening to the Beach Boys on that transistor radio. I started surfing when I was 12 at La Jolla Shores and Pacific Beach. My mom would drop us off at the beach early in the morning and come pick us up at 4pm. All summer long. What a life. Then you blink a few times, life races on and now in my mid 60's I'm living in the ranch lands and foothills of Southern California. I've sailed the waters of California, Mexico and Tahiti. I've performed with so many gifted artists. I've opened concerts for rock stars. I've surfed and sailed in both Hemispheres. I've been blessed with wonderful fans and so many friendly venues. My dreams have come true. I believe this all has been a God-Thing. How else could this have happen? 
My sincere thanks to my wife, my family, to all who have been part of this journey and to God. I couldn't be here without you all.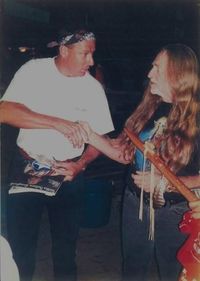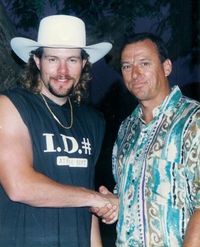 ---
---
Home Port: San Diego, County CA
I was born in a small town on the seashores of Lake Kontsance in southern Germany and arrived in So Cal just in time to celebrate my 2nd birthday. I don't remember the old country though I still feel a strong tie to it. I've been singing, surfing and living within reach of the Pacific Ocean ever since and it's a priceless relationship. It shows up in my songs, it comes across in my shows, and it's the source of much of my life's recreation.  
My entertainment history has been fairly extensive, yet mostly confined to the local region. I love traveling and love doing shows around the country but not full time, so I stay closer to home. I learned my craft in smokey barrooms back in the mid 1980s. I've been blessed to have been able to take my guitar and entertain audiences in a few different countries. How a guy gets to sail throughout French Polynesia and then wind up singing live on Radio Bora Bora is truly something that is quite magical... but it happened just that way.
I'm an entertainer at heart. I've written songs over the past 35 plus years and have recorded 4-original CDs, which you can purchase on my website, through CD Baby, or download on iTunes. 
My entertainment focus is to provide fun that the entire family can appreciate. I put my heart in every show, with a God given positive attitude. My dad always told me, "do your best and work hard and  things will always work out". Thanks Dad. It's still working. I sure do miss you.
"Life's been good to me, so far". Hope to see you at the next show.
If God is for me, then who can be against me?
Take a break from your day and daydream ~ ~ ~
I was sailing with friends in French Polynesia. We stopped at a few places like Bloody Mary's and the Bora Bora Yacht Club to do a few shows. In this shot we're just getting under way to head for home, a sail that in my heart truly never ended. Every time I see this picture I'm back on the water, sailing to the next island.